Most people want their home to look like a luxurious paradise, even if they cannot afford it. This is especially true when it comes to the outdoors. People love spending time outside in a beautiful setting and often go to great lengths to make their yard or patio look as lovely as possible.
In the 2022 Houzz and Home Survey of 70,000 U.S. respondents, 55 percent said they planned to renovate their home, while 46 percent intended to decorate it. Furthermore, homeowners with larger-scale renovations plan to invest $75,000 in 2022 as opposed to $60,000 in 2021, according to the poll. However, many homeowners feel like they can't achieve this look because they don't have the money to spend on expensive materials and furniture.
But that's not necessarily true! There are plenty of ways to make your outdoor space look luxurious without spending a fortune. Here are six ideas to get you started:
Use elevated planters
If you have a small patio or balcony, you can make it look bigger and more luxurious by using elevated planters. This will give the illusion of more space and make your outdoor area look more expensive. You can find elevated planters at most home improvement stores or online.
Some things to consider before you buy an elevated planter:
The size of the planter (you don't want it to be too big or too small for your space)

The material (wood, ceramic, metal, etc.)

The style (modern, traditional, rustic, etc.)
Of course, don't forget to add some greenery. Plants and flowers always make outdoor spaces look more luxurious and expensive. Some plants and flowers for your planters are Lavender, Geraniums, Pansies, Petunias, 'Green Mountain' boxwood, Japanese Pieris, and many more.
Add a water feature
Another way to make your outdoor space look more luxurious is to add a water feature. This could be a simple fountain or a more elaborate pond. Water features add a touch of relaxation and luxury to any space. They also make your outdoor area look more inviting and expensive.
You can create your own water feature if you want something more unique. Many DIY tutorials online can show you how to do this. Some styles include a DIY water wall or a simple backyard waterfall. You will need basic materials: rocks, a pump, and tubing.
Add sidings
If you have a patio or deck, you can make it look more expensive by adding sidings and a pergola. Sidings are panels that go along the sides of your patio or deck. They come in various materials, including wood, vinyl, and aluminum.
It would be daunting if you do it yourself, and you might choose the wrong siding or install it incorrectly. As a result, your house might look cheap instead of luxurious. To avoid this, it's best to hire a professional to install the sidings for you. Look for the best siding companies in your area with the experience and expertise to get the job done right.
You may get suggestions from them about skilled professionals utilizing cement fiber board siding alternatives. It has the appearance of wood and the grains and characteristics you desire in wood sidings. This is also waterproof, rot-free, and termite-resistant.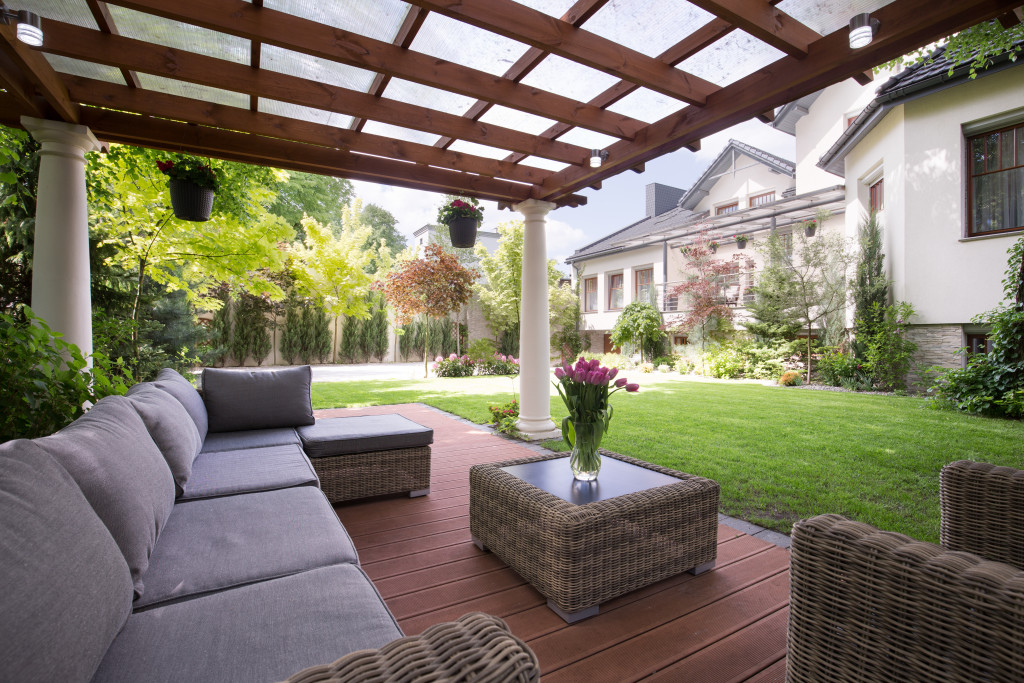 Build a pergola
A pergola is a type of gazebo with an open roof with crisscrossing beams. It's a great addition to any outdoor space and can make it look more luxurious. This is an overhead structure that provides shade and privacy.
It's a great addition to any outdoor space and can make your patio or deck look more luxurious. You can also buy pre-made pergolas but get one that's the right size for your space. You can also build your own pergola with basic carpentry skills and materials.
Install outdoor lighting
Outdoor lighting is a must-have to make your space look more luxurious. String lights are popular because they create a warm and inviting ambiance. They will not only make your room look more expensive but also help you to extend your time outside in the evening.
You can also use lanterns, solar lights, or even candles to add some light to your outdoor space. Lanterns and candles are especially effective when placed around a water feature. They create a beautiful and calming atmosphere that is perfect for relaxing in the evening.
Upgrade your outdoor furniture
You should upgrade your outdoor furniture to make your outdoor space look more luxurious. You don't have to buy new furniture. Still, you can make your existing furniture look more expensive by adding some simple touches.
For example, you can buy new cushions and throw pillows for outdoor furniture. You can also add a new patio umbrella or some outdoor rugs. These simple changes will make a big difference in the overall look of your space.
All in all
Living in a luxurious home doesn't have to mean that you're wealthy. You can create expensive-looking aesthetics in your house without spending a fortune. So don't feel guilty about wanting your home to look beautiful and expensive. With a little effort, you can transform your outdoor area into a place you and your family will love to spend time in.