Being a single mom is one of the most challenging jobs in the world. You must be everything to your kids—mother, father, chauffeur, teacher, nurse, and more. And on top of that, you must find a way to make a living. Sadly, many single moms live in poverty because they can't find a job that pays enough to support their families.
Starting your own business is one way to break out of the cycle of poverty. But it's not easy. You have to be very organized and disciplined to make it work. If you're a single mom who's looking for a business idea, here are 6 great options for you:
Start an at-home daycare
Starting an at-home daycare could be the perfect business if you love kids and have the patience to care for multiple little ones. You can start small by watching a few kids in your own home and then expand as your business grows. The best part about this business is that you can run it entirely on your own schedule—perfect for single moms who need the flexibility to be there for their kids when they need them most.
Moreover, your start-up costs will be relatively low as a home-based business. You'll need to invest in some basic supplies and gear, like cribs, toys, and arts and crafts materials.
Start a pet-sitting business
Love spending time with animals? If so, you might want to consider starting a pet-sitting business. As a pet sitter, you would get paid to watch people's furry (or not-so-furry) friends while they're away. This is the perfect job for animal lovers who want to set their own hours and rates.
However, you must ensure that your business will not be disrupted by power outages or severe weather conditions. In this case, you need to consult experienced commercial electrical contractors to get the job done. They can help you get your business up and running in no time with services such as backup generators and emergency lighting.
Start a cleaning business
Do you take pride in your cleanliness? Does the sight of a mess turn into a sparkling oasis satisfy you? If so, starting a cleaning business could be perfect for you. This type of venture is typically easy to start. It doesn't necessitate any special training or certification—just some elbow grease and attention to detail.
In addition, starting a cleaning business allows you to work around your kids' schedules. You can work during the day while in school or in the evenings after they've gone to bed. Plus, with people leading busier lives than ever, there's always going to be demand for professional cleaners.
Start a virtual assistant business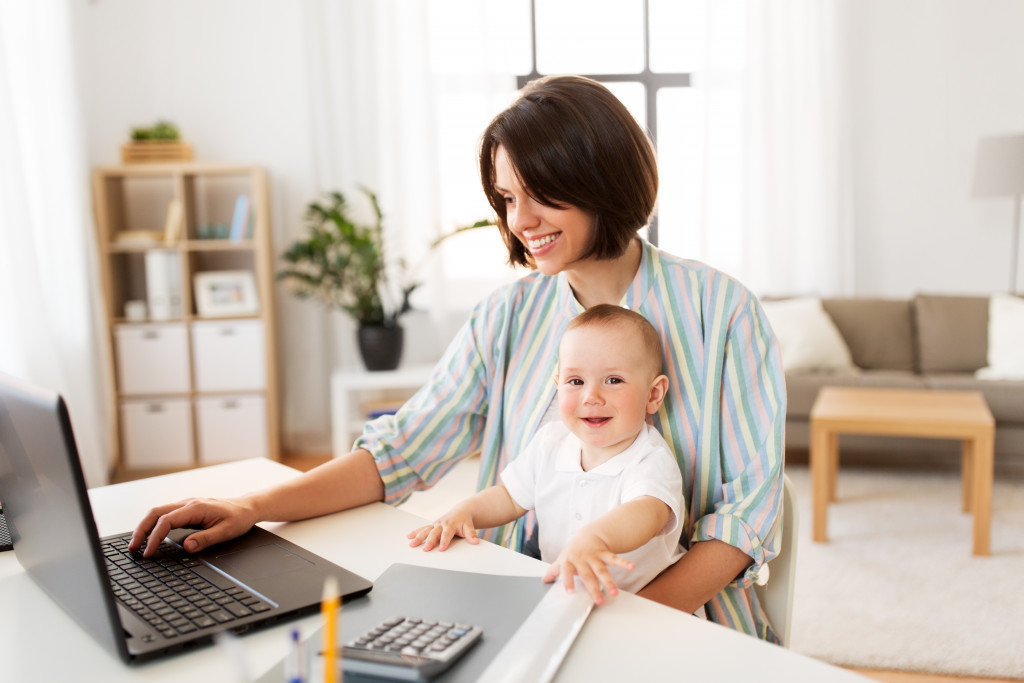 As a virtual assistant (VA), you can offer your administrative skills to clients from all over the world from the comfort of your own home. As long as you have a computer and internet connection, you can start this business immediately. With this business, you can work with clients in various industries, from small businesses to entrepreneurs to busy moms.
To be successful as a VA, you need to be extremely organized and detail-oriented. You also need to have strong communication and customer service skills. If you have these skills and attributes, starting a VA business could be the perfect way for you to make money as a single mom.
Start an online store
Thanks to the wonders of e-commerce, it's easier to start your online store—and you don't need any inventory! There are numerous platforms (like Shopify) that will allow you to set up an online store in minutes. With some creative marketing, you can start generating sales right away. Best of all, since you're running the show, you can set your own hours and work around your kids' schedules—perfect for single moms who want the flexibility of being their own boss without sacrificing time with their children. Some of the products you can sell online include:
Clothes
Shoes
Jewelry
Handbags
Accessories
Home decor
Furniture
Artwork
Gift items
An online store is a great way to make money as a single mom, and with some hard work and dedication, you can quickly turn it into a successful business.
The bottom line
There are plenty of viable business ideas for single moms out there—you just need to find one that fits your skill set and interests best! With some creativity and hard work, you can make your dream of being self-employed come true while still being able to spend quality time with your kids. So what are you waiting for? Get out there and make it happen!