More and more swimsuit brands are becoming eco-friendly and switching to all-natural materials
Recycled materials like nylon and polyester are front and center in the manufacturing process
Bottles made of plastic and fishing nets are the number 1 recycled materials used for creating beachwear
Popular fashion brands are eradicating microplastics from the manufacturing process
Regardless of your body shape, shopping for swimwear can be exhausting, not to mention overwhelming. Things are further complicated when you're an eco-conscious individual who is careful with their purchases.
For the women of today, a swimwear line has to be more than just a fashion statement — sustainable swimwear free of synthetic fibers and microplastics is the ultimate shopper's goal.
Today, luckily, a lot of manufacturers are focusing on sourcing recycled materials that are fair-trade. They are doing their best to maximize their ocean conservation efforts, and we're here for that!
Continue reading about the applause-worthy, eco-friendly swimwear brands that offer women ethical bathing suits made from sustainable fabrics. Without further ado, let's make a splash!
What Is Sustainable Swimwear?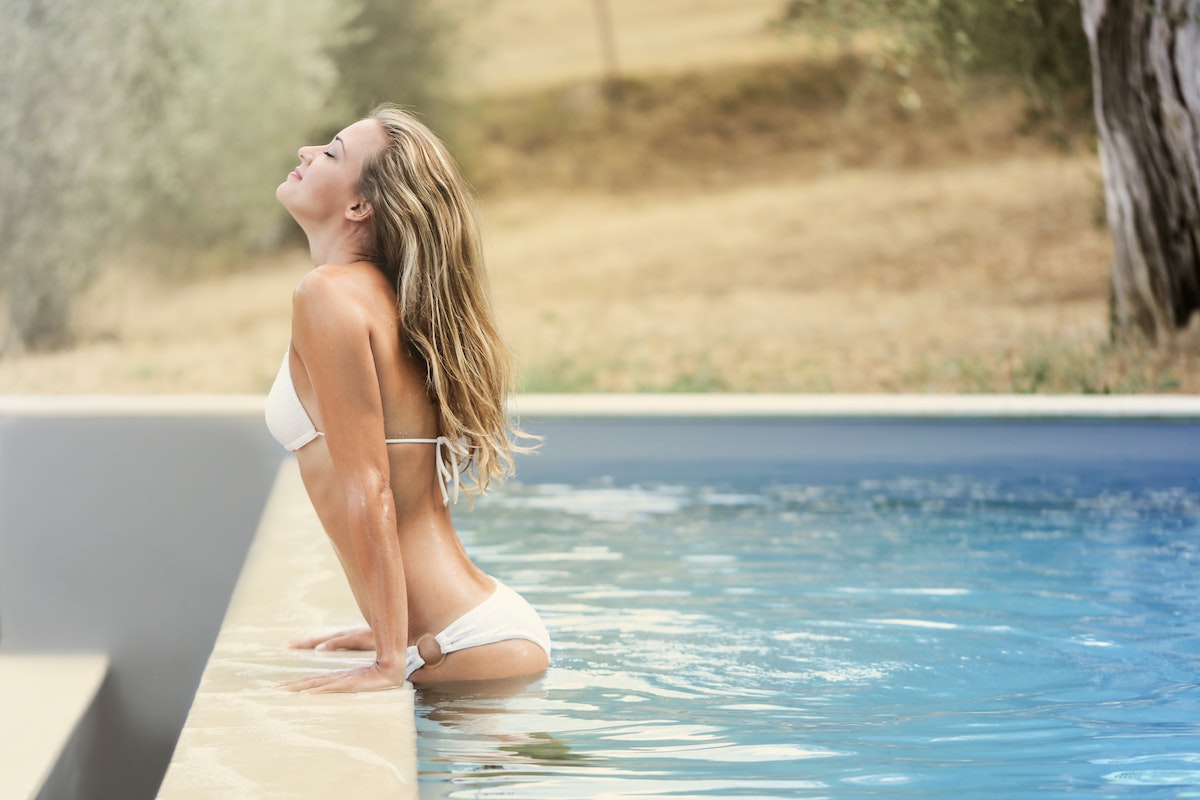 In essence, it's really challenging to find a swimwear line that isn't made of synthetic fiber (these are non-degradable fibers, as opposed to natural materials).
Even with all the efforts companies make to break free from microplastics and eradicate virgin synthetics completely from the swimwear industry, there's still work to be done.
However, thanks to the eco-forward thinking and ingenuity of brands, post-consumer plastic bottles and fishing nets are brought back into manufacturing and recycled to be used anew in a more sustainable manner — sustainable swimwear!
List of Top 25 Sustainable Swimwear Brands for Women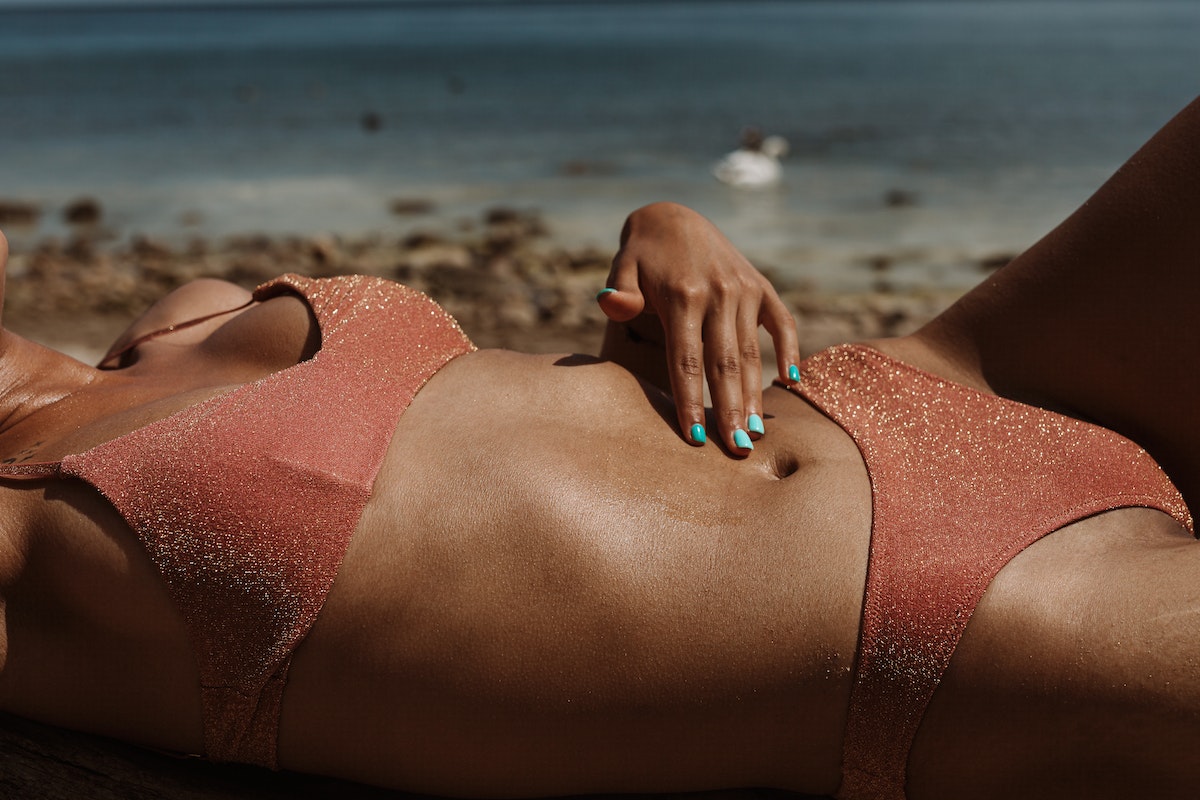 Whether it's plus-size maternity swimwear or high-waisted swimsuits, sustainable bathing suits can be found in all shapes and sizes — you just need to know where to look. Here are our picks for the best sustainable swimwear brands for women everywhere:
1. Vitamin A
Vitamin A offers women a plethora of sustainable swimsuits coming in many designs and patterns, each flattering a woman's body in the most eco-friendly way.
The brand proudly uses fabrics like EcoRib®, a stretch-ribbed fabric, and EcoLux™, a super durable matte jersey, both made from recycled nylon and natural fibers.
Perfect for: Mix & match bikinis
Ethics: Made in the USA, using OEKO-TEX-certified recycled fabrics (nylon), plant-based fabrics, and recyclable packaging, emitting fewer greenhouse gases
Price scope: $86 to $165
Sizes: XS-2XL
2. Summersalt
Summersault is one of the best-known sustainable swimwear brands. Boasting recycled materials (mainly recycled polyamide derived from recycled plastics) tuned into fashionable and sustainable swimsuits, Summersault trumps the list of affordable and eco-swimwear brands.
Perfect for: Long torsos
Ethics: Recycled materials and packaging, WRAP & BSCI-certified ethical production
Price scope: $45 to $95
Sizes: XS-2XL
3. Girlfriend Collective
Using OEKO-TEX-certified ECONYL® nylon and ethically-produced swimsuits in Vietnam, the Girlfriend Collective is here to wow! Delivering a size-inclusive swimsuit line, you can use a swimsuit body size chart to find your perfect pick.
You'll find tops, one-piece swimsuits, and bottoms made of recycled fishing nets and post-industrial waste in vibrant, dynamic colors.
Perfect for: All sizes
Ethics: OEKO-TEX-certified ECONYL® regenerated nylon, recyclable packaging
Price scope: $38 to $88
Sizes: XXS-6XL
4. Patagonia
Patagonia is a swimwear label that offers a range of swimsuits, rashguards, and more, all made from sustainable, recycled materials that are fair trade. Besides using quality sustainable materials, Patagonia is an eco-friendly swimwear company dedicated to giving back to the community by investing in conserving and restoring the environment.
Perfect for: Active lifestyle
Ethics: Fairtrade-certified swimsuit lines, recycled polyester, certified B-corp, making an environmental impact
Price scope: $49 to $159
Sizes: XXS-2XL
5. BOLD Swim
Here's a swimwear brand dedicated to crafting eco-friendly swimsuits out of ethically-sourced nylon from Brazil. The BOLD Swim swimwear is non-toxic, UV-safe, and biodegradable. Thanks to the forward-thinking of the BOLD designers, ethical swimwear has never been so comfy and colorful.
Perfect for: Colorful bikinis
Ethics: Biodegradable polyamide, non-toxic colors, low-waste practices, no carbon footprint
Price scope: $90 to $145
Sizes: S-2XL
6. CUUP
Designed with a special focus on curves, CUUP is one ethical swimwear brand that knows how to make swim fabric look and feel amazing. Made from recycled materials like ultra-soft modal, CUUP's bathing suits come with an antimicrobial bamboo lining and breathable features.
Perfect for: Fuller upper body parts
Ethics: Vertical development involving local communities, recycled fabrics, inclusive cup sizes
Price scope: $68 and up
Sizes: XS-3XL
7. Hackwith Design House
Designed with sustainability in mind, the HDH is another USA-based swimwear brand that takes ethical swimwear to a whole new level of comfort and style. As a longstanding partner in the Good Trade program, HDH is dedicated to delivering awesome made-to-order quality in its swimsuit lines.
Perfect for: High-wasted bottoms
Ethics: Ethically designed in Minnesota, size-inclusive
Price scope: $34 to $104
Sizes: XS-3XL
8. Do Good Swimwear
If you're after sustainable yet affordable bathing suits, Do Good Swimwear is your top pick! All of the items in the swim collection are made from recycled ocean plastic, like plastic bottles, fishing nets, etc. Plus, the brand donates a portion of each purchase to ocean-conserving causes, tree-planting initiatives, and so on.
Perfect for: Slow-fashion-appreciating individuals
Ethics: ECONYL® recycled materials, repurposed ocean waste
Price scope: $20 to $70
Sizes: XS-XL
9. Salomé
The swimsuits by Salomé are ethically made by women, for women, in the founder's native Dominican Republic. You won't find mass-produced bathing suits but carefully designed, limited-quantity swimsuits made of recycled nylon.
Perfect for: All body types
Ethics: ECONYL® regenerated nylon fiber, chlorine-resistant, UV-safe fabrics
Price scope: $50 to $95
Sizes: XS-XL
10. Cosabella
Hand-crafted to suit all sizes, the Italian heritage brand Cosabella uses recycled nylon and elastane to manufacture sustainable yet comfortable and fashionable swimwear. The Italian-made swimwear uses ethically sourced, recycled polyamide and all-natural dyes.
Perfect for: Size-inclusive swim tops
Ethics: Natural dyes, certified materials, recycled polyamide
Price scope: $99 to $215
Sizes: XS-XL
11. Made Trade
Here is a swimwear company that encompasses a few brands creating swimwear from sustainable materials. From biodegradable packaging to biodegradable nylon fabric, you'll find different sustainable bikinis, tops, and bottoms at affordable prices at Made Trade.
Perfect for: Different brands in one place
Ethics: ECONYL®, Amni Soul Eco® Thread, CO2 light fabric
Price scope: $45 to $225
Sizes: XS-2XL
12. Isla in Bloom
This Australian brand uses eco-friendly, recycled dyes and special inks to make sustainable bikini and one-piece swimwear using regenerated nylon derived from ocean waste and recycled plastic bottles. Isla in Bloom proudly designs ethically hand-made items in Sidney.
Perfect for: Repurposed inks
Ethics: ECONYL®, ethically made in Australia
Price scope: $80 to $95
Sizes: S-2XL
13. Carve Designs
Carve Designs is a brand dedicated to total ethical manufacturing, proudly using 100% recycled materials. The designs are sustainable, bold, and comfortable, ensuring functionality, quality and sustainability.
Perfect for: Designs made of post-consumer waste
Ethics: Recycled plastic bottles, 80% fewer carbon emissions
Price scope: $42 to $99
Sizes: XS-XL
14. Wolven
You probably won't find a more colorful bathing suit other than Wolven's. From classic styles to edgier models, all swimsuits are manufactured using recycled plastic bottles. Plus, this sustainable swimwear brand delivers swimwear that'll last for years!
Perfect for: Colorful models
Ethics: Recycled plastic bottles
Price scope: $46 to $168
Sizes: XS-XL
15. Kitty & Vibe
Designing bold swim items in almost all colors, shapes, and sizes, Kitty & Vibe is determined to use more sustainable materials in its manufacturing process. So far, half of the models are made from recycled polyester in different swimsuit varieties and styles.
Perfect for: Size inclusivity
Ethics: Recycled polyester
Price scope: $46 to $95
Sizes: S-5XL
16. Londre
Using recycled water in manufacturing and OEKO-TEX-certified production, Londre has made the cut as one of the finest sustainable swimwear brands. You'll find high-waisted bottoms in vivid colors and patterns to suit body sizes up to 5XL!
Perfect for: Sustainable, minimalistic designs
Ethics: Recycled bottles made of plastic, recycled water, recycled packaging
Price scope: $61 to $119
Sizes: XS-5XL
17. Outerknown
Outerknown is one of the swimwear brands that are certified by the FLA (Fair Labor Association). The eco-friendly swimwear is made entirely of fabric scraps and recycled plastic. Plus, the brand cooperates with Fair Trade USA, making sure the employees are fairly compensated for their work.
Perfect for: Men and women
Ethics: ECONYL® made of fabric scraps
Price scope: $68 to $145
Sizes: XS-XL
18. Lively
Lively is a brand known for supreme lingerie and swimwear made of recycled materials and sustainable fabrics. The brand is making an effort to expand sustainability across more lines while preserving its size inclusivity. Plus, Lively is one of the labels known to use organic cotton in its designs.
Perfect for: Bustier women
Ethics: Recycled polyester, partner of non-profit organizations, sun cream-resistant fabric, UV-safe
Price scope: $45 to $80
Sizes: XS-3XL
19. Jessica Rey Swimwear
Jessica Rey Swimwear is made from regenerated polyamide sourced from discarded fishing nets. The designs are fashioned in L.A, following strict ethical production practices. You'll find stunning recycled fabric tankinis, swim dresses, and more made from natural fabrics and regenerated industrial plastic.
Perfect for: Swim dresses
Ethics: Ethically made in the U.S., garment workers work in sweatshop-free facilities, and recycled polyamide, pre-consumer waste, and post-consumer materials used
Price scope: $52 to $124
Sizes: XXS-XL
20. Youswim
If you're after a single piece of swimwear that fits most sizes, Youswim's got your back! Plus, all pieces are crafted using recycled nylon waste (made of plastic waste) and industrial plastic sourced from Europe.
Each sustainable swimsuit is made with European-sourced nylon and woven ethically in England. The team is also diligently working on a recycled nylon fabric to use instead to maximize its sustainability.
Perfect for: Durability and sustainability
Ethics: Ethically and locally made in England, certified plastic-negative, biodegradable plastic
Price scope: $139 up
Sizes: S-2XL
21. Cleonie
This Aussie swimwear label proudly manufactures made-to-order swim pieces to minimize overproduction, and we love that! Plus, Cleonie uses Australian-made fabrics like recycled polyester and ECONYL®. More on the plus side, there are no harmful artificial dyes in any of the swimsuits!
Perfect for: Eco-conscious swimwear
Ethics: Locally made in Australia, ethically sourced recycled materials
Price scope: $78 to $180
Sizes: S-L
22. Kaylyn Gardner
Here's a powerhouse that designs completely synthetic-free swimsuits made from all-natural, organic materials. Vibrantly colored with natural dyes, you can get your next hand-made swimsuit from Kaylyn Gardner, knowing you're investing in sustainability.
Perfect for: Eco-conscious swimwear
Ethics: GOTS organic cotton, natural dyes, no-synthetic policy
Price scope: $80 to $200
Sizes: XS-XL
23. AllSisters
The Barcelona-based brand uses ocean plastic, ECONYL®, and recycled cotton to manufacture stunning, sustainable swim pieces built to last. If you appreciate sustainability, you'll love AllSisters' models!
Perfect for: Durable, sustainable swim apparel
Ethics: Recycled ocean plastic, ECONYL® regenerated nylon
Price scope: $54 to $145
Sizes: XS-XL
24. Mara Hoffman
Mara Hoffman is another household name specializing in sustainable swimwear. Using only recycled materials, the label works with local L.A. suppliers to produce awesomely feminine tops, bottoms, one-piece items, and bikinis.
Perfect for: Ultra-fashionable sustainability
Ethics: 100% regenerated nylon or recycled polyester, supplies from locals
Price scope: $70 to $250
Sizes: XS-3XL
25. Selfish Swimwear
As a black-owned, sustainability-focused brand, Selfish Swimwear delivers a year's warranty on the swimwear! Now that's a wow factor for us! Gracing all body types, Selfish Swimwear is careful to use only recycled fibers to craft the designs in its in-house studio in Montreal, following strict ethical swimwear policies.
Perfect for: Variety of patterns and Mix&Match options
Ethics: Recycled nylon (rubber carpets, fish nets, etc)
Price scope: $65 to $170
Sizes: S-2XL
Conclusion
Whether you're looking for a swimsuit to accentuate the right assets or a one-piece to lengthen your figure, our rundown of the best sustainable swimwear will definitely help you find the right body-hugging apparel that's both safe and comfy.
With price ranges starting from $20 and up, you can adjust your budget to get a hold of the perfect swimwear item to show off on your favorite beach.
FAQs

1) Which is the best sustainable swimwear brand to buy online?
Choices are plenty: from Youswim to Mara Hoffman to Summersalt — all of them are eco-friendly, sustainable labels focused on slow fashion.
2) What factors do I need to consider while buying sustainable swimwear outfits?
Make sure to look for natural fibers, upcycled fibers, and recycled materials.
3) How to maintain sustainable swimwear dresses?
Forget about washing your swimwear dress with hot water! Instead, rinse it with cold water after using a mild hand soap or a delicate laundry detergent.
4) What is the most sustainable swimsuit material?
If swimwear is made from recycled waste fabric, it's generally considered sustainable. Anything made of recycled nylon fibers, and recycled textiles is a go.