There's nothing like traveling with an older person. If they're healthy, there is no reason for them not to travel and experience new places while they can. However, it does take some preparation before you set out on your journey. This article lists seven tips to keep in mind when traveling with an older person.
Make Sure Everyone Is Healthy Enough to Travel and Pack All Their Necessities
Help them select a comfortable and sturdy cane, pair of shoes, and a hat. Be prepared for any changes in weather, so they will not be too hot or too cold. If possible, pack an extra pair of glasses or two (especially if your older traveler has bifocals), hearing aids, dentures, and any other necessary accessories, so none of these items are lost.
Insurance and medications
Take your older traveler's insurance information with you as well as their medical alert devices. Be sure they've stocked up on any medications and treatments they will need. Carry their doctor's phone number and emergency contact information with you at all times for quick access.
Pack a first aid kit with the essentials, including bandages and medication that your older traveler may need if they experience any health issues while traveling. If they're taking a course of antibiotics, be sure to include a recent prescription as well as a note from their physician explaining what it is they're taking.
Alert the Hotel Staff That You Will Be Traveling With an Elderly Person
If your loved one needs assistance getting around (e.g., if they use a cane or walker), ask the hotel or resort if they have a wheelchair to lend. If your loved one can use a wheelchair on their own, you should also ask if there's a wheelchair lift to attach to the hotel/resort's elevators so that they can access all the floors in the building.
If your loved one is sensitive to noise, ask ahead if there will be events taking place while you're staying at the hotel/resort so you can plan accordingly. Ask for a room away from elevators or any area where there may be children running.
Ensure Their Safety at All Times
Be aware of the dangers present in the city or place you're traveling to and ensure your loved ones' and your safety. Do some research on crime rates, what areas are safe, and other necessary precautions if needed.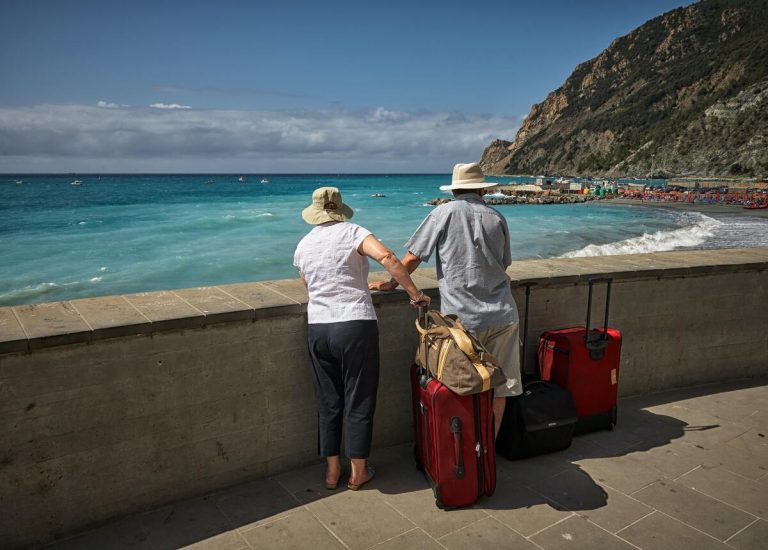 Allow Some Time to Rest
If your older traveler is not accustomed to traveling, allow them to take some time adjusting to life on the road. Travel can be tiring for anyone, especially if they're used to staying in one place. Keep any plans on a daily basis simple until they get back into the swing of things. Most importantly, be flexible and understanding.
Always schedule extra time on your schedule for unexpected issues. It's always good to plan some contingency time in any travel plans as emergencies can arise at any moment and cause havoc on an itinerary. Verify the location of the closest hospital or urgent care center if you will need one during your trip, and make sure you know how to get there.
Explore Your Surroundings
If you're visiting a new town or city, take the opportunity to explore the area with your older loved one. Allow them to share their knowledge of local history, restaurants, museums, parks, etc. Most importantly, though, is to make sure you are both comfortable in this new environment before devoting yourself to a full day of activities.
Enjoy the Opportunity for New Experiences
Make the most of your time away from home by taking your loved one on some new adventures. Take them skydiving, parasailing, or zip-lining or maybe go on a walking ghost tour or learn how to sail together. Allow their knowledge and experience to guide you.
Write a Journal
After your trip, write down any memorable events for your older traveler's scrapbook or journal. Not only will this help them recall the good times, but it will also give you a chance to reflect on your time spent together.
If your loved one is interested in writing down their own thoughts, encourage them to do so. Their stories are exceptional and will be even more so if they're shared with future generations of their family.
Final Thoughts
Don't forget to have fun! Your older traveler may not get another opportunity to travel or spend time with you outside of the home, so enjoy this time and cherish every moment.