You're an adventurer at heart. You love everything about the outdoors and are always up for a new challenge. So why not turn your passion into a business? Many people think that women are not cut out for entrepreneurship. This is especially true for women who want to pursue their adventurous side. Here are five unconventional business ideas for adventurous women like you.
Start a hiking guide service
If you love hiking and being in nature, why not start a business leading other people on hikes? Not only is it a great way to stay active and spend time outdoors, but it also offers the opportunity to share your love of nature with others. In today's busy world, more and more people are seeking refuge in the peacefulness of nature. As a hiking guide, you can lead small groups on local trails, offering physical guidance and sharing knowledge about plants, wildlife, or history.
As demand for outdoor experiences grows, now is the perfect time for women to start their own hiking guide business. With some primary outdoor education and safety training, you can offer hikes for beginners or for more experienced adventurers. Offer half-day or full-day excursions or multi-day camping trips for those seeking a true wilderness experience.
Build an indoor shooting range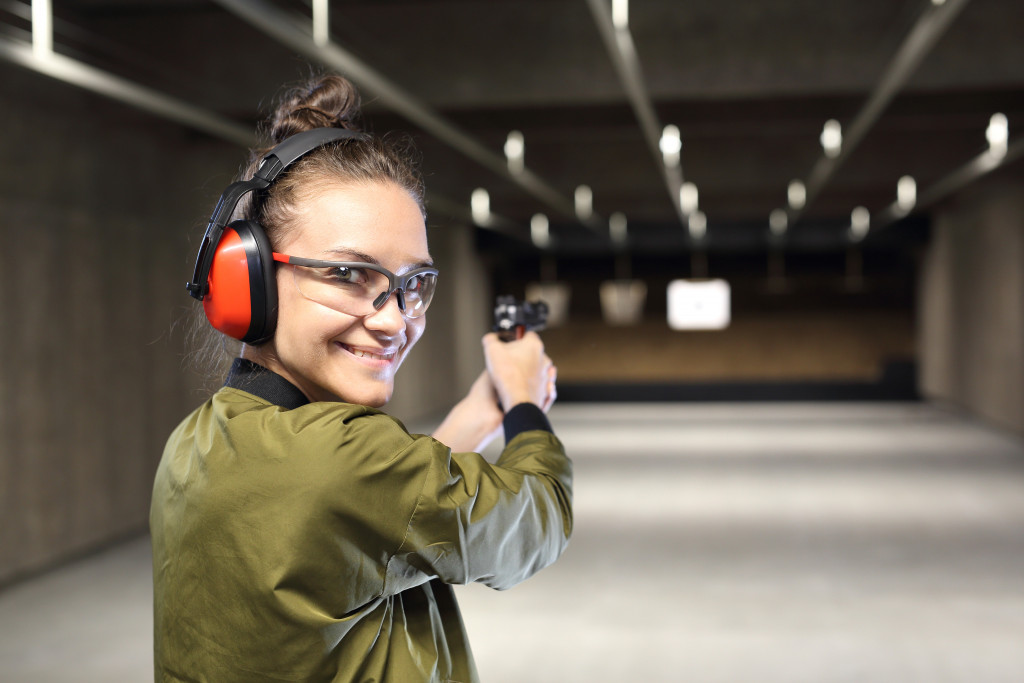 If you're a good shot and enjoy spending time at the shooting range, why not build your own indoor shooting range? You can charge people by the hour or day and offer classes to help beginners learn how to shoot. Women have long faced obstacles in their participation in shooting sports, but owning and running your indoor shooting range empowers you to provide a safe and inclusive environment for fellow gun owners.
What's more is that with so many indoor shooting range designs, you can easily find one that fits your budget and space requirements. You can even build an outdoor range if you have the land. No matter your design type, ensure that safety is your top priority.
Create a line of outdoor clothing
Women are often underrepresented in the outdoor industry and struggle to find the gear that fits their unique needs. That's why starting a line of outdoor clothing designed for women would be a fantastic business idea. From hiking pants with wider hips to jackets with tailored shoulder lines, this clothing line would offer women the comfort and function they need outdoors.
And don't forget about style – these clothes could be practical and fashionable, encouraging more women to explore the great outdoors. With the growing interest in activities like hiking, camping, and rock climbing, now is the perfect time to launch a line of stylish yet functional outdoor clothing for women. It's an untapped market that is ripe for innovation and success.
Launch a kayak rental business
If you live near a body of water, consider starting a kayak rental business! This is a great way to get people outside and active, and it can be lucrative too. A kayak rental business offers patrons the opportunity to enjoy the water while getting some exercise and taking in the beautiful scenery. As a woman in business, you can add your personal touch by offering special packages such as guided tours or teambuilding events for corporate groups.
In addition to renting kayaks, consider selling merchandise such as sunscreen and waterproof bags. Just research the necessary permits and insurance before launching your business. So grab your paddle and get ready to ride the waves of success with a kayak rental business.
Become a professional photographer
Are you a woman looking to try your hand at starting a unique and profitable business? Consider becoming a professional photographer! Technology has made high-quality cameras readily available, and the demand for skilled photographers continues to rise. In addition to traditional portraits and events, opportunities can include real estate photography, product photography for small businesses, or even taking photos for stock image websites. Networking with local vendors and using social media effectively can significantly expand your client base.
As your own photography business owner, you can set your own schedule and pricing. Plus, each time someone views one of your photographs, you have the potential to earn passive income. So why not give it a try? A career as a professional photographer may be your perfect fit.
The bottom line
There's no shortage of opportunities for adventurous women who want to start their own businesses—as long as they're willing to think outside the box! From leading hikes to running a successful photography business, the sky's the limit. So what are you waiting for? It's time to get out there and start chasing your dreams.