Grandmothers are the best. They spoil us, love us unconditionally, and are always there for us when we need them. So, it's only fitting to show them how much we appreciate them with a heartfelt and thoughtful birthday gift.
Unfortunately, finding the perfect present for grandma can be a bit tricky. She probably has everything she needs and doesn't want anything too expensive. So, what do you get her? Don't worry. We've got you covered. Check out our list of the best birthday gifts for grandmothers. From sweet treats to heartfelt keepsakes, we've got something for every grandma type. And, best of all, they're all reasonably priced!
Let's show some love to all the wonderful grandmothers out there! Grandmothers deserve a special kind of appreciation for their support and unconditional love throughout our lives. Whether it's bestowing hugs and kisses, bestowing wisdom, or giving the best birthday gifts, grandmothers are simply amazing! With these thoughtful best birthday gifts for grandmothers, you're sure to tell your grandmother how much she means to you and how much you admire her. 
So, if you want to show your grandma how much you care about her, here is a list of the 30 best gifts that will make her day even more special. From garden gifts to home decor items, our selection has something suitable for every grandma in mind. Let's look at these fantastic finds and prepare to make this occasion extra memorable! 
Best Garden Gifts For Grandmothers
Why not give her a garden she'll use and enjoy every day! Gardening has many benefits, from connecting with nature to increasing physical activity that can help make your grandmother's life healthier and more enjoyable. Easy-to-care herbs like rosemary and thyme, beautiful blooming flowers such as roses and marigolds, and unique succulents like jade and aloe are the best plants for grandmothers.
To help get your green thumb going, we have come up with helpful ideas on gifts to spark Grandma's gardening fire. 
A Bird Feeder to Attract Wildlife
Not only will they enjoy watching birds, other animals, and other wildlife through their windows, but it also has the added benefit of bringing joy and fun to gardening. Planting flowers and inviting bird feeders can create a haven for these creatures while creating an enjoyable outdoor space for grandmothers to sit and relax.
An Herb Garden Starter Kit
She'll enjoy cultivating her small herb planting with different spices and scents. Plus, saving money on fresh herbs from the store is a win-win for everyone. 
A Potted Rosebush Delivered Right To Their Home 
A potted rosebush is one of the best birthday gifts for grandmothers. Not only is it a beautiful addition to any garden, but bringing this gentle reminder of love right to your grandma's doorstep is a surprise that will show how much you care. Some of the best rose bush varieties for older grandmothers are hybrid teas and floribundas. This is also among the greatest gifts for moms that they will love.
A Set of Tools and Accessories 
Help your grandmother become the well-equipped goddess of the garden. She deserves to be with a full set of long-handled, ergonomic pruning shears, durable gloves, and a large gardening bag. 
Books on Gardening and Plant Care
Books are ideal for Grandmas who love gardening and cultivating their green thumbs. These books provide helpful advice and tips on how to get their gardens looking beautiful all year round. 
Personalized Garden Stone or Plaque
A personalized garden stone or plaque is a thoughtful and unique gift that any grandmother will love. You can have a special message or her name engraved on the stone or plaque, making it a beautiful and personalized addition to her garden.
Best Beauty Gifts For Grandmothers
The beauty world is full of amazing gifts perfect for making her feel special and appreciated. From luxurious skincare sets to elegant fragrances, here are six best beauty gifts for grandmothers to make them feel truly pampered and loved. 
She'll love having all the right tools to create a relaxing atmosphere—whether treating herself to a pedicure or taking time out for some much-needed self-care. A home spa kit can include everything from nail care tools, body brushes, and essential oils to face masks.
Whether she prefers classic, timeless scents or something more modern and contemporary, spoil your grandmother with a luxurious perfume that best reflects her style. And if you really want to go all out, opt for an exclusive bottle from one of the best niche brands around!
Choose a candle set that best suits your grandmother's taste and is created with natural ingredients such as essential oils, soy wax, and beeswax. You can even find bespoke sets in beautiful packaging from luxury brands for an extra special touch.
From anti-aging creams to eye serums to face masks, plenty of options will help keep your grandmother feeling refreshed and younger than ever! 
Help your grandmother look great and provide the best possible treatment for her hair. Choose from styling tools and shampoos to conditioners and treatments, along with many other available options. 
To find the right option that best reflects her style, choose from neutral tones and warm hues, or go for bold shades and bright pops of color. 
Best Foodie Gifts For Grandmothers
Do you have a grandmother who loves cooking? If so, why not show appreciation this holiday season by gifting her something special from the kitchen? Here are some of our best foodie gifts for grandmothers to make them feel truly pampered and loved! 
From classic favorites to modern recipes, there's no better gift than a cookbook set tailored to your grandmother's tastes. Whether she prefers French cuisine or Italian dishes, a well-curated selection of cookbooks can help her explore new flavors and create delicious meals for her family. 
There are plenty of baking sets out there that were made just for your grandma. Look for mixing bowls and measuring cups, or go for whisks and spatulas. And if you want to go above and beyond, opt for a bespoke set from one of the best artisanal brands around.
If your grandmother enjoys spending time in the kitchen but could use an upgrade, look no further than a kitchen appliance. Help her choose between classic stand mixers or all-in-one food processors. Considering her cooking experience and needs, create a kitchen haven for your loving grandma. 
If your grandmother enjoys experimenting with flavors and trying out new recipes, nothing beats a selection of gourmet ingredients! And if you're feeling extra generous, why not include a few luxury items like truffle oil or caviar?
Is your grandmother a gourmand and is always looking for a specific spice or oil? In that case, nothing beats a selection of best-in-class items. Surprise her with those hard-to-find and unique ingredients, from exotic spices and herbs to hard-to-find oils and sauces. 
Specialty Food Gift Basket 
Best-in-class cheeses and meats or select wines and spirits? Try to create a selection that she will love and enjoy. And if you want to make the gift even more special, why not include a few bestsellers from well-known brands?
Best Home Decor Gifts For Grandmothers
With the best birthday gifts for grandmothers, you can show your love and appreciation in a truly special way. But instead of purchasing generic items from a shopping mall, why not think about unique home decor pieces your grandma will adore and treasure for years? 
We've compiled a compilation of 6 of the best home decor gifts you can get for any granny out there.
Nothing beats a selection of best-in-class wall art for the grandmother who loves adding a vintage touch to her home. Choose between classic paintings, prints, unique sculptures, and mirrors, and give your grandma something to reflect her personality. 
Vintage furniture is a favorite of the elderly, so try to find classic armchairs, sofas, unique side tables, and cabinets. And if you want to make the gift even more special, why not include bestsellers from well-known brands that are rare and difficult to find? 
Does your grandmother love adding a touch of color and texture to her home? Decorative pillows are the right gift for her! These are not hard to find and you can choose between classic prints, and designs to handmade embroidery. 
A Beautiful Vase or Centerpiece
You cannot go wrong whether you choose an eye-catching floral arrangement, a unique piece of pottery, or a chic metal sculpture. Be sure that the vibrancy and beauty of the addition will elevate the atmosphere in any room. 
Show your grandmother how much you care with something special from the heart. From watercolor painting to pottery, these items are sure to be one-of-a-kind and will be treasured for years to come! 
Personalized photo frames bring out beautiful memories and serve as a sweet reminder of how much you care about that special someone. Plus, you can't go wrong with a gift that will last forever – giving your loved one something they can cherish and look back on in years to come! 
Best Budget Gifts For Grandmothers
Regarding the best birthday gifts for grandmothers, you don't need to break the bank. With a little creativity and DIY spirit, you can find plenty of the best budget options to make her smile. With tight budgets, practical and heartfelt gifts can be hard to come by – but fear not! We've gathered six of our favorite budget-friendly gifts just for you. 
Nothing beats handmade crafts for the grandmother who loves adding a touch of color and texture to her home. Watch her eyes water as you hand her a card or a scrapbook you made yourself. You can also go for hand-painted pottery and frames that she loves.
When giving gifts that make your special someone feel unique, an engravable keychain with a personalized message is the ultimate choice. They appreciate the thoughtfulness of a customized item and always carry your message with them wherever they go. Whether you express your love or make a funny pun, this gift will always bring a smile when they reach for their keys. 
Nothing says 'the perfect evening' like snuggling up on the couch with a cozy throw blanket. This home accessory can quickly become a favorite cuddle buddy, providing comfort and warmth as your grandma enjoys quality time with loved ones. Or maybe she'll dive into some much-deserved alone time. 
With its sophisticated yet simple design, a throw blanket will add an effortless touch of class to any room it's thrown in. Why not let your grandma get cozy and look sleek doing so?
Nothing could be more delightful than treating a special woman with scented candles. She can find her desired atmosphere from the selection and fill her home with various fragrances – from lavender for peace of mind and chamomile for relaxation to lilac for joy and lemon for purification. Gifting her candles will bring hours of relaxation and a soothing aroma to any area in the house. 
Roll up your sleeves and make your grandmother the cookies she taught you when you were a child! Sitting down with a big bowl of freshly baked homemade cookies and recapping the old days is a sure recipe for happiness! 
Baking up her favorite treats at home means that you get to customize every bite just the way she likes it. These special goodies are perfect for afternoon tea or morning coffee rituals.
A Colorful Flower Bouquet 
A bouquet of bright-colored flowers is the perfect way to liven up her living room! As if things couldn't get any better, it's easy to tailor the flower arrangement to her tastes – creating something just as unique as she is! With so much joy packed into one little bundle, a stunningly colorful bouquet will bring sunshine and warmth into any living room.
Most Popular Gift Items For Grandmothers
A box of her favorite chocolates or candies
There are a few gifts that are sure to please any grandmother. One popular option is a box of her favorite chocolates or candies. This simple but sweet gesture will bring a smile to her face. You can arrange the chocolates in a nice box or basket or place them in a cellophane bag and tie it with a pretty ribbon.
A personalized mug
Another great option is a personalized mug. You can find mugs with fun designs or have one custom-made with grandma's name or a special message. This is a gift that she can use every day, and it will make her smile every time she takes a sip of her morning coffee.
A t-shirt quilt
If your grandmother enjoys sentimental gifts, a t-shirt quilt is perfect. This unique present is made with your grandmother's favorite t-shirts. You can either have the quilt custom-made or make it yourself using a simple quilt kit. Either way, your grandmother is sure to love this thoughtful gift.
A gift certificate to her favorite restaurant
If your grandmother loves eating out, a gift certificate to her favorite restaurant is a great option. This way, she can treat herself to a nice meal without worrying about the cost. Just find out where her favorite restaurant is before you purchase the gift certificate.
A subscription to a gardening magazine
If your grandmother enjoys spending time in her garden, then a subscription to a gardening magazine is the perfect present. This way, she can stay up-to-date on all the latest gardening tips and trends. She'll think of you whenever she receives a new issue in the mail.
A personalized photo album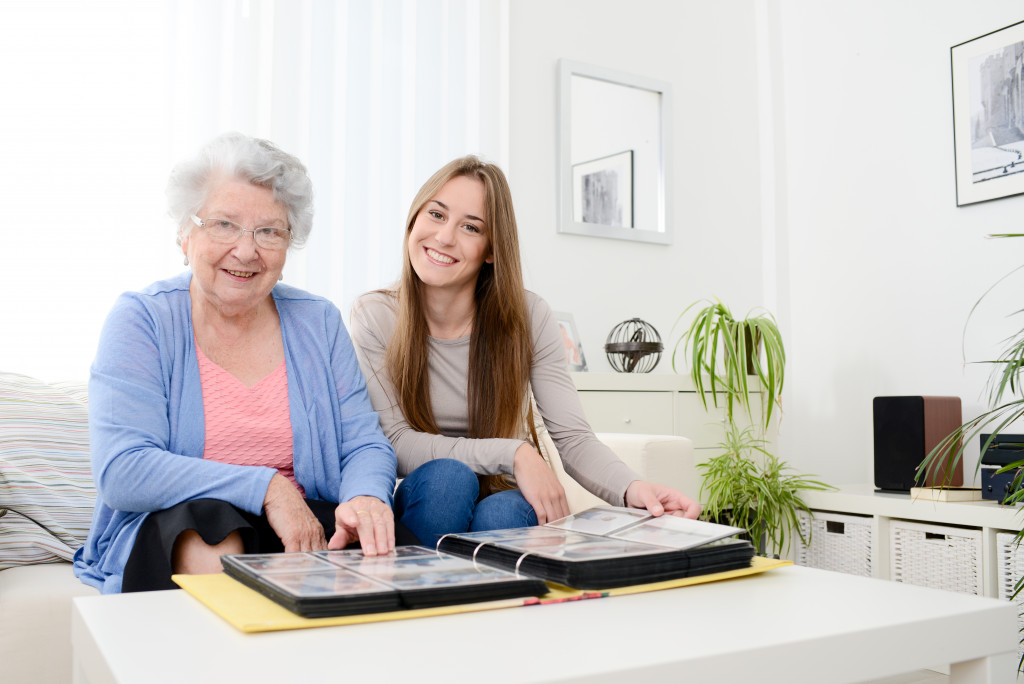 Another excellent option for a sentimental grandmother is a personalized photo album. You can fill the album with photos of your grandmother, children, grandchildren, and even great-grandchildren. Or, you can choose to include photos from throughout her life. Either way, she's sure to appreciate this thoughtful gift.
A new set of kitchen towels with her favorite saying
If your grandmother is a cook, a new kitchen cloth set with her favorite motto is an excellent choice. You can find towels with fun sayings, or you can have them custom-made. Either way, she's sure to appreciate this practical and sentimental gift.
A day at the spa
Everyone could use a day of relaxation, and that includes grandmothers. If your grandma is feeling a bit stressed, treat her to a day at the spa. She can enjoy a massage, a facial, and other pampering treatments. And she'll come out feeling refreshed and rejuvenated.
A basket filled with her favorite bath products
You can never go wrong with a basket filled with your grandmother's favorite bath products. This is a great way to help her relax and unwind after a long day. Fill the basket with scented candles, bath bombs, body lotion, and more. And, be sure to include a nice fluffy towel. This is a gift that she can use and enjoy regularly.
Tickets to a show or play she's been wanting to see
Giving your grandmother the gift of experiences is always a good idea. If she wants to see a particular show or play, get her tickets. This way, she can enjoy a night out without worrying about the cost. Plus, she'll have you to thank for a great time. Get her at least 2 tickets, so she can take a friend with her.
Wrapping Up
Grandmothers are some of the best people in our lives, and it's important to show them how much we appreciate all they do for us. With so many thoughtful gifts designed specifically for grandma, finding something special she'll love has never been easier. 
Our ideas for the best birthday gifts for grandmothers will surely bring a smile to their faces and show just how much you care! Whatever you choose to give her, the gift will help make your grandmother feel loved and appreciated. Choose one of the above gifts for any family member or search for plus-size gifts for boyfriends and girlfriends and show them how much they mean to you.
Showing our appreciation doesn't have to be hard or expensive; it helps keep her close in our hearts!  So go ahead and surprise your grandmother with one of these best gifts – she'll surely thank you for it.