Makeup is an essential part of many women's daily routines. It can enhance your features and make you feel more confident. Studies show that wearing makeup can increase your self-esteem and make you feel more positive about your appearance. However, before applying your makeup, it is important to prep your skin. This will help ensure that your makeup looks its best and that your skin stays healthy.
Here are some things you can do before you wear any makeup:
Cleanse your face
Before you start your makeup routine, it's vital to cleanse your face. This will help remove any dirt, oil, or other impurities that could affect the way your makeup looks. Additionally, cleansing will help prep your skin for makeup application, making it smoother and more even.
There are a few different ways you can cleanse your face. You can use a gentle cleanser with warm water or opt for a more targeted approach with micellar water or toner. Whichever method you choose, be sure to take the time to massage the product into your skin before rinsing it off.
Moisturize your skin
One of the most critical steps in your beauty routine should be moisturizing your skin before applying makeup. Moisturizer helps to create a barrier between your skin and the makeup, keeping your skin hydrated and preventing the makeup from clogging your pores. Additionally, moisturizer helps to give your makeup a more natural finish and can even help it last longer throughout the day.
If you have dry skin, it's imperative to moisturize before applying makeup, as otherwise, your foundation may accentuate any dry patches or flakiness. Just apply a small amount of moisturizer all over your face, using circular motions to blend it in. Once your moisturizer has had a chance to sink in, you're ready to start applying your makeup!
Apply primer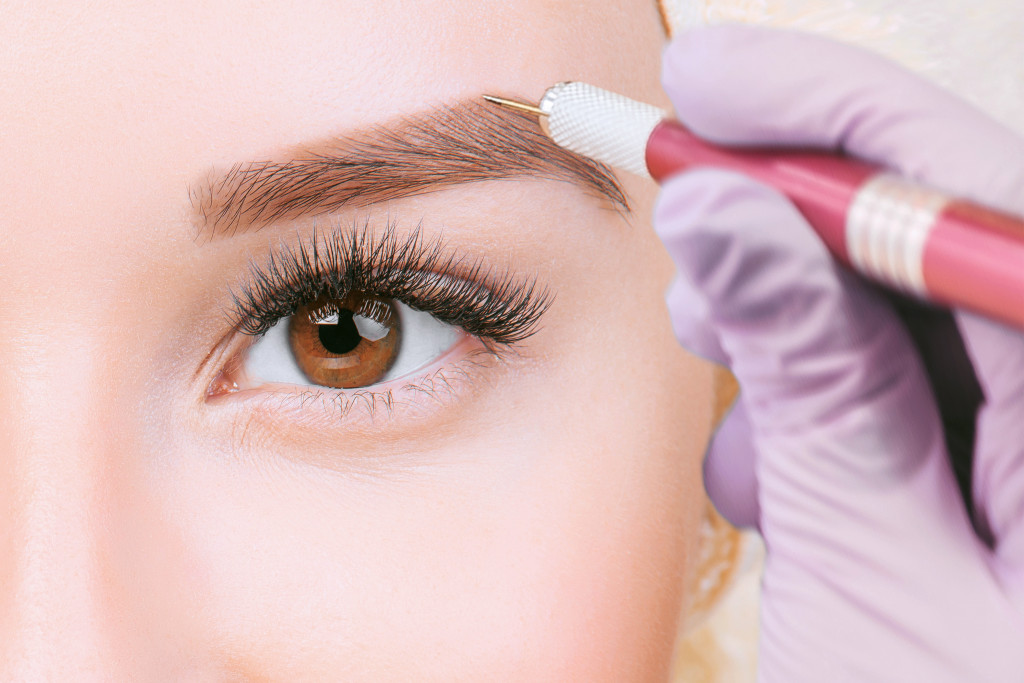 Wearing primer before applying makeup can help you achieve a flawless complexion. This step is crucial if you have oily skin or large pores. Primer is a light serum that creates a smooth base for foundation and concealer. It helps to fill in fine lines and pores, and it can even out your skin tone. When applied correctly, primer can help your makeup last longer and prevent it from creasing or smudging. As a result, primer is an essential step in achieving a polished makeup look. So be sure to apply primer before reaching for your foundation or concealer.
There are a few different types of primer, so you can choose the one that best suits your needs. If you have oily skin, look for a primer serum for radiant skin. Primer serums contain nourishing ingredients that give you a healthy glow while keeping your makeup on point all day. You can also opt for a primer with SPF that can help with both oiliness and dryness. No matter what type of primer you choose, be sure to apply it evenly all over your face before moving on to the next step in your makeup routine.
Choose the right foundation
Wearing foundation is a great way to even out your skin tone and give your skin a smooth, polished look. But with so many types of foundation on the market, it can be tricky to know which one is right for you. Here are a few things to keep in mind when choosing a foundation:
Your skin type
If you have dry skin, you'll want to look for a hydrating foundation that won't accentuate dry patches. If you have oily skin, you'll want to avoid foundations that are too creamy, as they can make your skin look greasy. And it's important to choose a foundation that is non-irritating and won't cause breakouts for sensitive skin.
Your coverage needs
Do you need full coverage to conceal blemishes and imperfections? Or are you looking for a more natural-looking finish? There are foundations available in a range of coverage levels, so choose one that will give you the results you're looking for.
Your finish
Do you want a dewy finish or a matte finish? Some foundations also contain SPF for additional sun protection. Consider what finish and features you want in a foundation before making your purchase.
With so many factors to consider, choosing the right foundation can seem daunting. But if you keep your skin type, coverage needs, and desired finish in mind, you'll be able to find the perfect foundation for your makeup routine.
There you have it! Those are the four steps you need to take before you start putting on your makeup. By following these steps, you'll ensure that your makeup looks its best while keeping your skin healthy.