Straight hair will never be the same as curly hair. And this is in no way discriminatory. That is just how biology works. Your curly hair will need more care and attention than your straight-haired peers.
You also have problems they don't have. You need to accept that your hair type is prone to frizz and drying. These things are not exactly out of your control.
You can care for your hair using a specific routine to target a condition like frizz. But first, you must figure out what curly hair you have because that's what your routine will be based on. The kinds of products you need to use will also depend on your hair type.
Common Problems for Curly Hair
While having curly hair is beautiful, there are still a few drawbacks that can sometimes discourage women from letting down their naturally curly hair. No matter the different curly hair types, these issues are usually the same.
Frizz
Frizz is something that every curly-haired woman has experienced in her lifetime. Frizz can happen because of various reasons like friction, lack of moisture, humidity, wrong styling techniques and products. 
Dryness
Even though curls look incredible when done right, sometimes dryness can catch up with them, making them look less alive. Like with frizzy hair, this can happen because of over-washing, using the wrong hair products, poor styling practices, etc. Nevertheless, a few new styling habits should bring your hair back on track. 
Tangling
There is no curly-haired woman that hasn't experienced a few tangles in her hair. Tangling usually happens during sleep, and it leads to breakage. With that being said, braids, buns, and other low manipulation styles are a great idea if you would like to minimize tangling. 
Breakage
Once again, no one likes their hair breaking, but sometimes it's inevitable. It often occurs when using heat or color on the hair, not moisturizing properly, tying the hair into tight hairstyles, etc. Avoiding these practices and developing new ones might be the secret to healthier hair. 
Lack of Definition
If you have used too much heat on your hair in the past, you will probably not have very defined curls. When your hair is damaged, it needs time to heal before you can regain your defined curls. 
Curly Hair Types and How to Care for Them
There are 12 types of hair. Type 1 is straight, while Type 2 is naturally wavy. Then, Type 3 is curly, and Type 4 is kinky or very curly. Each type has three sub-types. Caring for Types 2 to 4 can be similar; depending on some variables, you just have to swap out a few products.
Type 2: Wavy
This type sits between straight and curly; its thickness is the main difference from straight hair. Wavy hair is thicker than straight hair, and the subcategories depend on the thickness and the kinds of waves.
Type 2A is the thinnest type of wavy hair and forms s-shaped waves. Type 2B tends to be frizzier than Type 2A and has medium-thick strands. Type 2C is the most difficult to manage and style and is the thickest.
How to Style?
If you have wavy hair, keeping it light and easy is the key to getting the perfect shine and bounce. Since frizz is the major problem here, you must work in moisture. However, moisture tends to weigh down the hair, and you lose the waves and the volume of your hair.
Did you know that massaging your scalp can do wonders for hair volume? As much as a massage chair helps your body reverse the effects of stress and renew your strength, a simple two-minute scalp massage can do the same for your hair. You don't just focus on the strands; giving your scalp some care will also help hair growth.
Hydrating and moisturizing hair products are your friends. Use a styling mousse on the whole length of your hair while it is still damp to lock in moisture. Applying hair oil from the middle to the tips of your hair will also help control frizz.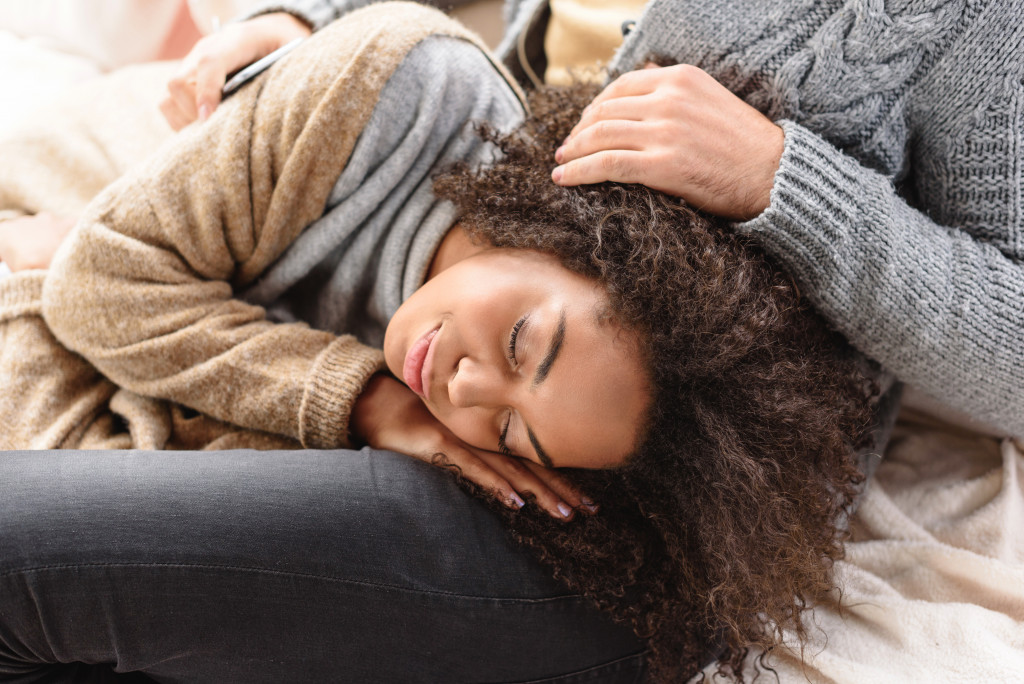 Type 3: Curly
If your hair becomes straight when wet and returns to its curl shape once it dries. This is your hair type. Curls of this type are well-defined and easy to manage.
Type 3A slightly leans towards the frizzy side and has a thick texture. Type 3B has tighter curls than the previous type and can have multiple textures. Lastly, Type 3 is the tightest curl for this type. Type 3C can be styled easily.
How to Style?
Keeping moisture locked in your hair requires a lot more work for this type than wavy hair. You have to use a styling mousse all over your hair, preferably when it's still working wet before you squeeze out all the water. Using a protein-rich hair mask at least once a week would be best. Be careful with overloading your hair with protein, as it can make your curly hair look limp.
Use a diffuser when drying your hair but ensure it's on cool mode or the lowest heat setting possible. Heat is the last thing you want to add when battling for moisture.
Type 4: Kinky
This is the last curly hair type, so the tightest, most-coiled hair forms belong here. This hair type is prone to damage and has a very thick and coarse texture.
Type 4A's tight curls have a soft texture. This type has more defined curls than Type 2B, but Type 2B can be fragile. The tightest of curls belong to Type 4C.
How to Style?
Using a heavily moisturizing conditioner after cleansing with a curl-friendly shampoo for kinky hair would be best. Every tie you use shampoo, you must follow up with a hair mask to maintain moisture. Use hair oil or mousse for the finishing touch. You can also use pomade for styling. Leave-in conditioners also work like magic.
For this hair type, it's best to choose air-drying over any tool. Hairdryers can cause your hair to break even with the lowest heat setting.
20 Reasons Curly Hair Looks Awesome On Women
While many women with different types of curly hair are out there, not all know how to manage it and make the most out of it. Below, we have listed the top 20 reasons why curly hair looks awesome on women, so you can love your natural hair the way it is and learn how to style it properly. 
1) Unique and Eye-catching
Naturally, curly hair types are rare, so women with this hair are more noticeable than those with straight hair. Being one with an eye-catching curly hairstyle is unique and memorable in a crowd of flat and lifeless hairstyles.
2) Versatile Styles
Different curly hair types can be worn in various ways and require minimal manipulation. Regardless of your length, curly hair allows you to create versatile styles for many different occasions, making you look gorgeous. 
3) Adds Volume to Hair
Women with natural curls are known to have more voluminous hair when compared with straight-haired women. Of course, many products can help you achieve that volumized look if you don't have it, but usually, women with curly hair types don't need them. If you have thinner hair, curling it may help add volume to it. 
4) Looks Great in Updos
Curly hair looks glamorous in updos; there is no doubt about that. Women with naturally straight hair go out of their way to curl and place it in an updo to achieve a more classy look for weddings and other fancy events. Depending on the hair curl patterns, curling it adds more texture to an updo which is why most hairstylists do it. 
5) Adds Character to any Outfit
No outfit fits two people the same way, which is perfectly understandable. Now, imagine adding various curly hair types to the mix. Your curls can add character to your outfit, making you stand out. 
6) Trendy and Fashionable
The number of curly hairstyles has grown rapidly over the past few years with no indication of slowing down. Women everywhere are beginning to embrace their curly hairstyles or put in the effort to create them to achieve something different and unique. Additionally, curly hairstyles are evergreen and seem like they'd never go out of style. 
7) Defines Individuality
As there are countless curly hair types, women with curly hairstyles can finally define their individuality by being just the way they are. No two hairstyles are identical, just as no two hair curl patterns are identical. So, let down your curly hair and show the world who you are.
8) More Styling Options
Instead of wearing their hair the same way every day, women with curly hair can rock a different hairstyle every day. There are far more styling options for curly hair than for straight hair. 
9) Shows Confidence
When curly-haired women decide to wear their natural curls the way they are, they usually save tons of time and money they would spend in a hair salon. After realizing that wearing their curly hair makes them look effortlessly beautiful, they become naturally more confident, and it shows. 
10) Low Maintenance
Maintaining it is not as frustrating as you might think for women born with naturally curly hair. There are days when the curls look perfect and messy, but in a good way. The good news is curly hair can be easy to maintain and still look good. 
11) Shows Personality
Women with curly hair are usually perceived as more fun and outgoing, which makes others want to spend more time with them. Curly hair is also associated with warm-hearted people, while straight hair alludes to a more formal and closed-off person. 
12) Shows Natural Beauty
By embracing your curls, regardless of the different curly hair types, you allow your natural beauty to shine through. Not only does it save time, but wearing your natural curls will make you look gorgeous without effort. 
13) Brings Attention to the Face
While straight hair blends with your face, curly hairstyles have the opposite effect. Regardless of the different curly hair types, wearing your hair as it is will bring attention to your face, framing it perfectly.
14) Flatters any Face Shape
Curly hair is not an all-size-fits-all type of hairstyle, as there are so many different curly hair types. This is why, when done right, curly hair can make any face shape look good.
15) Adds Texture to Hair
With curly hair, more texture usually means more fun. Furthermore, the best part about texture is that it can be enhanced with several hair products, making your hair different every time you style it!
16) Creates a Youthful Appearance
Not only does curly hair look great, but it also makes you look younger than you are. This is due to the volume, which makes your hair thinning far less noticeable.
17) Long-lasting styles
Women wearing natural curls often feel blessed because their hairstyles last longer. For instance, even if someone with straight hair achieves the same look, the curls will inevitably straighten out. Fortunately, this does not happen with naturally curly hair.
18) Great for special occasions
As mentioned above, curls are perceived as more glamorous, so women spend countless hours curling their hair, hoping to achieve that luxurious look. However, women with hair that is already curly will not face this problem.
19) Natural Hair Trend
The natural hair trend helps curly-haired women feel more confident with their looks, making them more attractive to others. After all, nothing is more beautiful than embracing what nature gave you. 
20) Easy to Accessorize
More often than not, women with curly hair have accessories in their hair. The volume of the hair helps hold these accessories in place while creating a unique and beautiful look.
Most Effective Hair Care Tips for Curly Hair
Curly hair can be stunning but can also drive you crazy sometimes. Ultimately, it all comes down to the methods and styling techniques you use on your hair. Whether facing one or a few of the abovementioned issues, these hair care tips will make your hair look healthier after the first use. 
Moisturizing Products
Moisturizing your curly hair is the key to making it look and feel healthy, as it is naturally prone to drying out. When you moisturize daily, your hair will be more defined, smooth, and bouncy. Plenty of moisturizing products are available for different curly hair types; all you have to do is choose one that fits your needs and budget.
Gentle Cleansing Techniques
Because curly hair is more delicate, you must be gentle with it in return. For example, avoid hot water when washing your hair and use room temperature water with a cool rinse at the end. Also, try using less product when you are massaging your scalp. 
Using a Diffuser when Blow-drying
Although women with any hair texture can use a diffuser, it looks especially good on curly hairstyles. Using a diffuser helps your curls dry in a way that makes them pop and bounce, making them look healthy and more defined. 
Avoiding Heat-styling Tools
It isn't easy to avoid heat-styling tools, but it's sometimes necessary. If you have used too much heat on your hair in the past, chances are your curls have lost their definition and shine. This is why avoiding heat-styling tools can be beneficial to get back those healthy curls. 
Protective Styling Options
Sometimes you must stop wearing it loose to protect your hair and avoid tangles and breakage. This is where protective hairstyles come into play. These hairstyles can be braids, twists, updos, etc. Furthermore, there are various protective hairstyle ideas all over the Internet that will inspire you. 
Deep Conditioning Treatments
Deep conditioning is another great way to keep your hair healthy and properly nurtured. With deep conditioning treatments, your hair will regain its moisture and thus reduce breakage, tangles, and frizz. Of course, you should always do your deep conditioning treatments on clean hair. Cover your ends in the conditioner, but avoid getting too close to your roots, as it can grease up your hair. Then, please leave it in for as long as the product instructions say to get the best results.
Using a Satin Pillowcase
We're sure you've probably heard this one before, but using a satin pillowcase has proven extremely helpful. By swapping out your current pillowcase with a satin one, you will immediately notice less hair frizz and breakage. It's worth a try, right?
Trimming Regularly
Because curly hair can get damaged easily, it's important to know when to visit the hair salon. Regardless of where you are on the curly hair chart, curls should be trimmed regularly. Experts say trimming your curls every 6-8 weeks will make them look healthier.
Styling Tips for Curly Hair
One of the best things about curly hair is the number of styling opportunities waiting to be used. Although there are many different curly hair types, one thing is certain: curly hair always looks effortlessly beautiful. However, if you want to put more effort into your curly hairstyle, try some of the styling tips mentioned below.
Enhancing Natural Curls
Most curly-haired women would jump at the opportunity of enhancing their natural curls. Here are some tips that will help you get your natural curls where you want them to be:
Use the twist-and-press method when drying your hair, and use a diffuser while you're at it.

Avoid using heat on your hair.

Trim your curls regularly.

Avoid washing your hair too often.

Use a specialized shampoo.
Defining Curls with Products
There is nothing wrong with using hair products to define your curls, just as long as you don't overdo it by using too much. Always use your hair products on wet hair, and scrunch your curls upwards to make them more defined.
Trying Different Hairstyles
As mentioned above, women with curly hair have absolute freedom when choosing different hairstyles daily. Since curly hair looks good no matter how you tie it, curly-haired women have many styles to try out. 
Accessorizing Curly Hair
Another great thing about curly hair is the abundance of accessorizing opportunities. Depending on your style and preference, you can accessorize your hair using scarves, shell rings, earrings, head wraps, caps, hair clips, headbands, etc. The possibilities are endless!
Final Thoughts
Oftentimes women with curly hair feel less confident because their hairstyle doesn't always look as polished and tidy as they would want. Indeed, curly hair can sometimes be a challenge, but there is no bigger beauty than embracing your natural hairstyle and creating a unique and beautiful look. While there are a few issues surrounding the different curly hair types, there are also plenty of incredible solutions, and we hope you found this article helpful in that regard.